ASSEMBLING A LOCAL CREATIVE ECOSYSTEM IN MILLBANK
SHIBBOLETH SHECHTER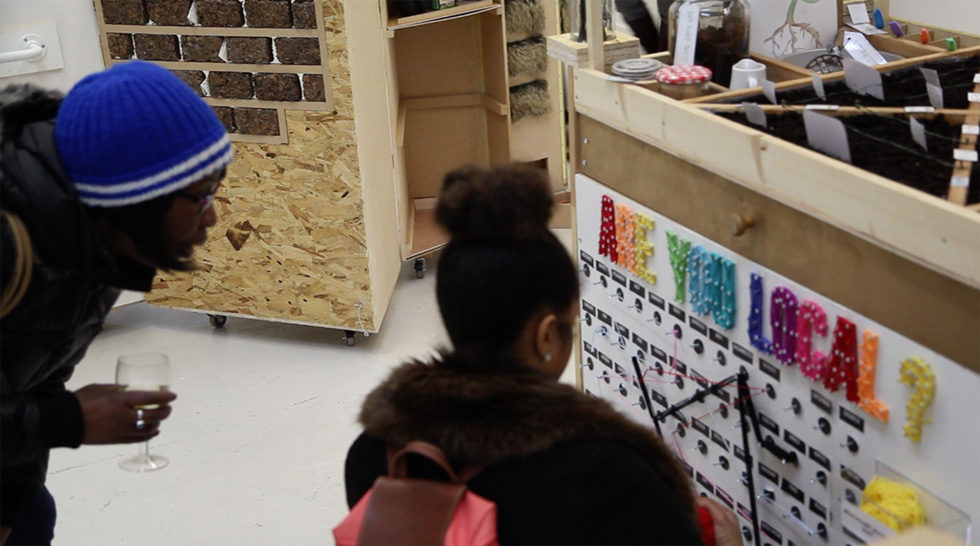 BACKGROUND
In 2005 Chelsea College of Arts, consolidated its properties, previously scattered around Chelsea and South Kensington to the Grade II listed former Royal Army Medical College buildings, opposite Tate Britain. The vocal support of local residents was important in influencing and preventing Westminster Council from selling the site to a luxury property developer. Residents campaigned that it should become the home of an arts college. Millbank, like many other London neighbourhoods, has suffered from gentrification and social fragmentation. It was the hope of local stakeholders, that the College would provide a platform for developing creative approaches to rebuilding the community and rejuvenating a lost local artisan history.
In 2015, Chelsea College of Arts organised a series of special commissions, exhibitions and public events to mark 10 years at Millbank. During these years the college has become, according to the 'Chelsea College of Arts celebrates 10 Years' publicity a 'landmark in the area'. However, arguably, it has failed on its promise to local residents to become a local 'community anchor'. Millbank Creative Works (MCW) was set up in the wake of local resident enthusiasm with the move of an art college to the area – its aim to build a creative local ecosystem through projects to connect people and up-skill individuals. The lack of support from the college1apart from an attempt in 2013 to launch a joint-venture utilising the former Pimlico Library as a creative hub, that fell through due to lack of funding and of Westminster Council led to MCW scaling down its planned activities and building its future on a step-by-step approach. They have launched, among other initiatives, a local community radio station and a food trolley scheme, weekly visiting isolated residents with a bag of healthy food.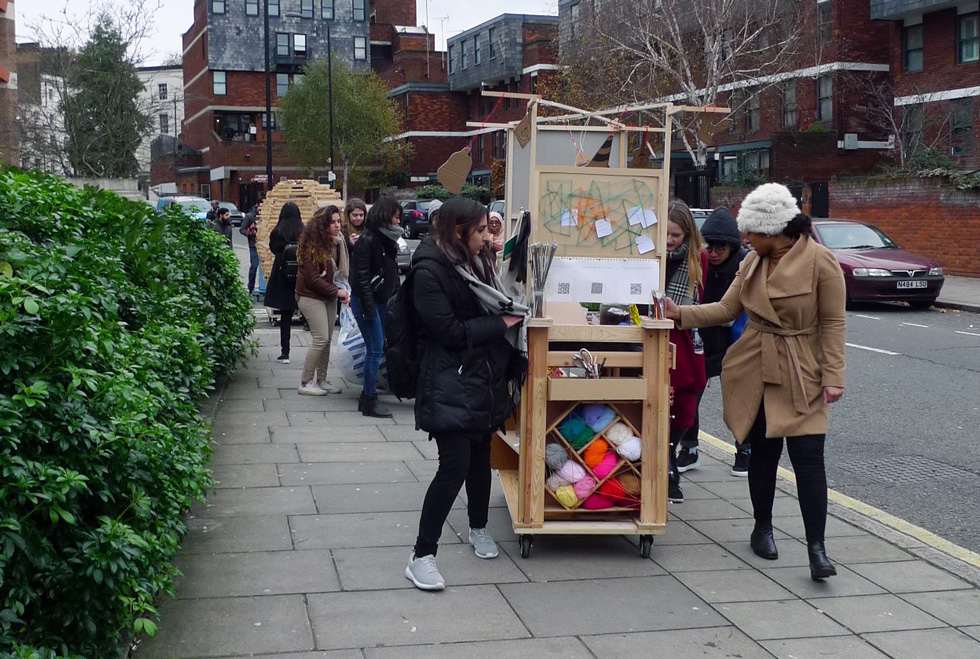 MILLBANK STORIES
A couple of years ago we worked on 'Chelsea Local', a design project with Chelsea MA Interior & Spatial Design students (ISD) that asked them to re-imagine unused and underused spaces in Millbank as creative nodes in the area. The project built on a network of local actors and places, established by the now terminated Tate Local programme. Through 'Chelsea Local', a chance encounter with Wilfried Rimensberger, the force behind MCW, led to a discovery of a shared passion for establishing a creative, resilient local Ecosystem in Millbank, with Chelsea College of Arts staff and students and local neighbourhood stakeholders. Millbank Stories is the first joint endeavor.
Millbank Stories employs storytelling; design objects, in the form of storytelling 'devices'; creative events, in the form of storytelling parades; and the space of the exhibition to make visible existing community's and create spaces for new encounters to take place. The creative happenings and artifacts of Millbank Stories helped reinforce the relationship between Chelsea College of Arts and MCW into a formal structure (Community Interest Company) that will enable conversations and collaborations. The parade, the space of the gallery and the exhibited objects also drew people together and facilitated new alliances (such as, the coffee bean bag arts & crafts project, a joint venture between MCW, Tate Britain staff, local residents and University of the Arts London students).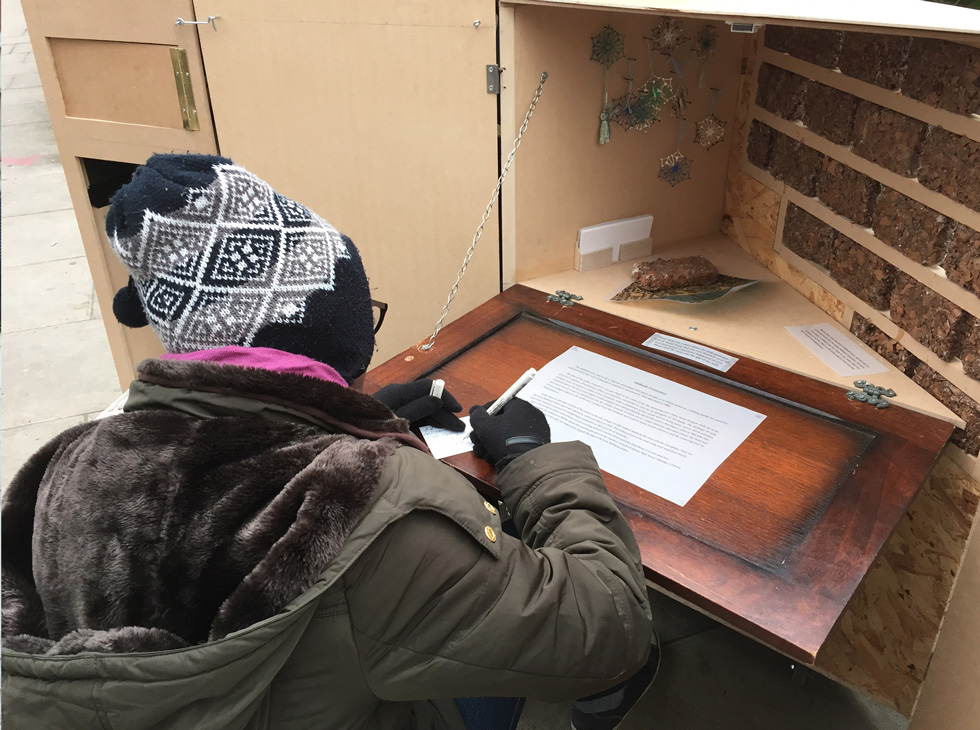 Millbank Stories is part of a larger pedagogic inquiry by the author on the teaching and learning of design skills for community building. Intrinsically, it is important to highlight some of the nodes in the local creative ecosystem and the encounters plotted by ISD students. Millbank Stories asked that they use creative devices to critically engage with 'site' and 'community' and develop spatial interventions to engage diverse audiences and drive change. Nadaa Emambux designed a 'knitting trolley', an artifact that enabled her to overcome barriers and engage in a dialogue with a Millbank elderly knitting group. Members wove stories into the trolley, that then travelled through the area retelling the yarns and creating new encounters. One of these has led to Nadda being commissioned to design, with the knitting group, a permanent 'Yarn and Tea' trolley for a community centre. Nadia Rodrigues Pedrosa's 'Bow Wow Bench', an unfolding structure, with a seating area, dog water bowels, dog toys and a display with information on dog services in Millbank, provided a platform for a multitude of meetings between local dog owners to take place. It led to new relationships being formed - 'I made a new friend today', and provided an important service for local businesses - 'I have lived here for twenty years and never knew about this place'2Quotes taken from written feedback to Nadia on Bow Wow bench.. A long term MCW ambition has been to retain creative talent in Millbank, thorough an incubator community hub, a space for developing innovative creative practice. Fabiola Umar, one of the students has lived all her life on the local Grosvenor Estate. Her project, 'Are You Local', was a one-day collaborative creative event on the estate, supported by MCW, to re-establish a community spirit and a sense of place she feels has been lost over the years. Fabiola sees her work as the start of a long term sustainable community building and place making endeavor that will allow her to bring her creative skills back into her local community.
Fabiola's story is unique. The community- in-Millbank3Manzini, E. (2016) Communities in a Highly Connected World [online] Cultures of Resilience Available at: http://culturesofresilience.org/annex-1/ [Accessed 15 June 2016], in particular, the Chelsea College of Arts staff and student body, is fluid. More than half of ISD students are international and will leave Millbank and London after three years. Projects such as Millbank Stories, alongside establishing the college as a community anchor in a local creative ecosystem and ensuring a degree of future resilience, equip students with the skills to employ art and design towards enabling encounters and drawing people together. Through incorporating projects such as Millbank Stories into the curriculum, we are building a global community of graduates with the creative tools to weave people and places together.
---
| | | |
| --- | --- | --- |
| 1. | ↑ | apart from an attempt in 2013 to launch a joint-venture utilising the former Pimlico Library as a creative hub, that fell through due to lack of funding |
| 2. | ↑ | Quotes taken from written feedback to Nadia on Bow Wow bench. |
| 3. | ↑ | Manzini, E. (2016) Communities in a Highly Connected World [online] Cultures of Resilience Available at: http://culturesofresilience.org/annex-1/ [Accessed 15 June 2016] |