Or, the difference between people and phone boxes
Adam Thorpe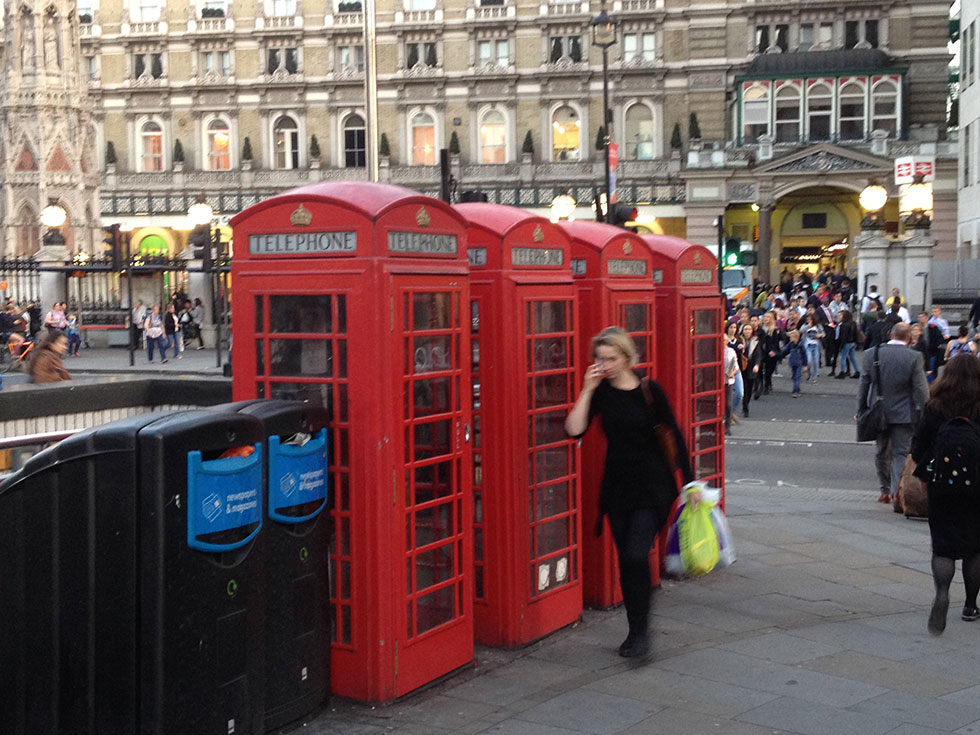 It is rumoured that the public phone boxes that remain on our streets post mobile communications, whilst appearing redundant, are there because they provide redundancy. The story goes that if all mobile network coverage where to fail in some future emergency scenario then the hard-wired communications of the old phone box system is accessible to emergency services via a secret four- digit pin, offering alternative ways and means of communication.
For the system to have redundancy some of the 'actors' within it must be redundant.
A note from the US Federal Communications Commission on the subject of maintaining public safety communications in the context of an attack on homeland security calls for 'diversity, redundancy and resilience – in that order'. That means: you cannot have resilience without redundancy nor redundancy without diversity.
It considers a scenario where communications (in particular, public safety answering points' or PSAPs) may be threatened and suggests an approach to building the resilience of the system 'its ability to maintain its core purpose and integrity' (Zolli and Healy, 2012) as a communication system) through redundancy. It concludes that:
'The alternate routing characteristics provided by diversity contribute directly to the fundamental public safety precepts of redundancy and resiliency. By providing an alternative means of connectivity through diversity routing, redundant means of connection between the PSAP and the local exchange are accomplished.' The note also acknowledges that redundancy entails neccessary costs, stating that 'the costs of diversity must be considered in the overall vulnerability assessment of the facility and the need for route diversity'.
'This suggests a role for local government in brokering interactions, unlocking community resources and increasing the diversity of how Citizens interact with local government and each other.'
The above scenario discusses characteristics of resilience as they relate to a technical system organisation. In this case a communication system. It considers diversity as the existence of alternative ways and means, connectivity as having access to alternative ways and means, and redundancy as having sufficiency of alternative ways and means in the given scenario.
Resilience through redundancy is a natural strategy. Taleb (2012) comments on the propensity of nature to 'overinsure' itself suggesting that 'layers of redundancy are the central risk management property of natural systems.' He points to human physiology as evidence of this; two kidneys when one will do, and 'spare parts' and extra capacity in lungs, neural systems, and arterial apparatus. Taleb also challenges the notion of 'cost' in relation to redundancy. He argues that whilst redundancy 'seems like a waste if nothing unusual happens', 'something unusual does happen – usually'. Furthermore if you have surplus of an asset then you may be able to draw upon or trade that asset in times of shortage, and in this regard what appears to be 'insurance' against risk is actually better understood as 'investment' in opportunity. This aligns with Sampson's (2012) account of the enduring neighbourhood effect. Sampson evidences that at the neighbourhood scale, pro-social activity reduces anti-social activity and fosters greater community resilience. Sampson observes that those communities that have greater social and civic connectivity and activity respond better to extreme scenarios. Tennis clubs become rescue centres. The members a connected network of collaborative actors. The barbecue equipment becomes a kitchen, the indoor courts a dormitory, the towels from the shower rooms bedding and bandages – the day to day is repurposed in response to the extraordinary. This correlates with Greenfield's account of 'spontaneous infrastructure', as evidenced by the Occupy networks' relief response to Hurricane Sandy in 2012.
So, the systemic argument goes that for a system to be resilient it must have redundancy yet for this redundancy to exist some of the actors' themselves (in the case of the earlier examples, the communications routes, the phone boxes or the kidneys) must be redundant, that is surplus to requirements, available, and able to cope with long spells of inactivity.
But, people aren't phone boxes. Just as an arm in a cast withers on the bone as the artificial support removes the need, opportunity, and eventually the ability, of the arm to support itself, so too humans' ability to care for themesleves and each other deteriorates rather than thrives when they are redundant – deprived of resources and opportunities to exercise and develop their abilities to do so. The hegemonic competitive capitalist system is the cast that constrains the people and publics within it, making many of us passive consumers of goods and services rather than active participants in their design and delivery. Far from affording greater freedoms to all the Citizens within the state the 'free' market optimises the Citizens active within it – leaving many resource rich (and able to make consumer choices) but time poor (and less able to explore alternative ways of meeting their needs). Others, the Citizens that are redundant in the system, surplus to system requirements – are time rich but denied sufficient support or authorisation to find alternative means to survive and thrive.
For Citizens in this system, to be redundant is to be denied redundancy.
This suggests a paradoxical relationship between the redundancy of the system and the redundancy of the people within it. Accordingly, the resilience of the system militates against the resilience of the people within it.
Perhaps in an attempt to resolve this paradox, the socio-political system described above includes a model of taxation intended to fund a public service provision that seeks to ensure sufficient ways and means of meeting basic needs to those people redundant within the system. But this model appears to be failing. There appears to be insufficient capital to fund public services. These concerns are compounded by diverse drivers including technological innovations that 'design out' human actors (making more people redundant) and an ageing population that is understood as a community of needs rather than assets.
Central government cuts to local government funding mean that by 2017 funding available for delivery of public services by local government (including adult social care, chlidcare, waste collection and management, policing, libraries and leisure) will be reduced by 50%. Resilience in the face of public service cuts is dependent on those affected by these cuts having alternative ways and means of responding to the needs left unaddressed by them and there being redundant 'actors / assets' that can be brought into play to meet these needs.
An alternative system to free market optimization and taxation is required. One in which diverse ways and means of meeting needs are fostered and afforded to and by redundant Citizens, so that a 'positive spiral' of redundancy (of alternative ways and means) is achieved.
'People aren't phone boxes … humans' ability to care for themselves and each other deteriorates rather than thrives when they are redundant.'
This scenario neccessitates public service innovation that will rewrite the roles of Citizens as service users, moving them from passive individual people to active collaborative people, from service users to service participants, and from people with needs of service delivery to people as assets for service delivery. In this scenario the role of local authorities also changes, moving from being the (sole) provider of services to being stewards of Civic and Civil resilience afforded by new multiple models of service provision. This new role for local government requires them to be active in creating the conditions that fosters and affords 'positive' and 'active' redundancy to Citizens.
In this context local government might extend the US federal communications commission's precepts for resilience ('diversity, redundancy and resilience – in that order') adding the connectivity essential to access a diversity of ways and means. Here diversity denotes existence of alternative ways and means, in the form of networks and relationships, resources and assets, and roles / identities. Connectivity denotes access to alternative ways and means. And redundancy denotes sufficiency of alternative ways and means of Citizens meeting the needs left unaddressed by public service cuts. This suggests a role for local government in brokering interactions, unlocking community resources and increasing the diversity of how Citizens interact with local government and each other.
1
Greenfield, A (2014). Practices of the Minimum Viavle Utopia: Spontaneous Infrastructure, Presentation at 'Social Innovation and Creative Responses to Global Urban Challenges', The British Academy, London.
2
Sampson, R J (2012). Great American city: Chicago and the enduring neighbourhood, Chicago & London: University of Chicago Press.
3
Taleb, N (2012). Anti-fragile: how to live in a world we don't understand, London: Allen Lane.
4
US Federal Communications Commission http://transition.fcc.gov/pshs/techtopics/techtopics14.html (retrieved 20 October 2014)
5
Zolli, A & Healy, A M (2012). Resilience: why things bounce back, New York: Free Press.
---
| | | |
| --- | --- | --- |
| 1. | ↑ | Greenfield, A (2014). Practices of the Minimum Viavle Utopia: Spontaneous Infrastructure, Presentation at 'Social Innovation and Creative Responses to Global Urban Challenges', The British Academy, London. |
| 2. | ↑ | Sampson, R J (2012). Great American city: Chicago and the enduring neighbourhood, Chicago & London: University of Chicago Press. |
| 3. | ↑ | Taleb, N (2012). Anti-fragile: how to live in a world we don't understand, London: Allen Lane. |
| 4. | ↑ | US Federal Communications Commission http://transition.fcc.gov/pshs/techtopics/techtopics14.html (retrieved 20 October 2014) |
| 5. | ↑ | Zolli, A & Healy, A M (2012). Resilience: why things bounce back, New York: Free Press. |