ANGELA HODGSON-TEALL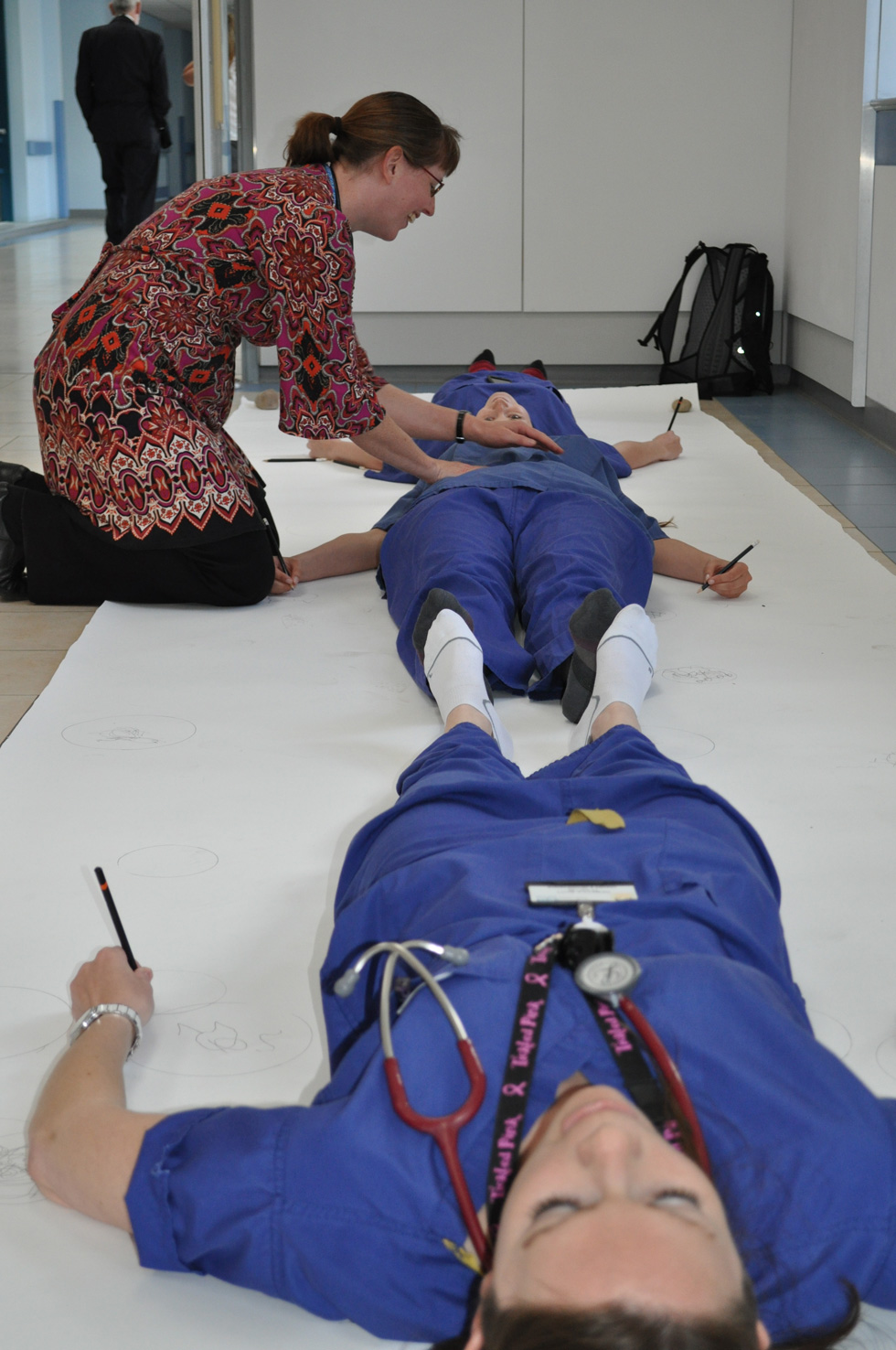 My practice was developed initially by exploring the impact of introducing structured drawing activities to staff of a mixed ethnicity hospital community in London to find out whether drawing is a useful tool in the practice of empathy. Drawing echoes the craft skills of medicine and makes apparent, emotions and thoughts, in empathic therapeutic interventions.
The events ran as drawing workshops that double up as performances. I often took my cello to these events as I found, in my work at Queen Elizabeth Hospital Woolwich, that the presence and sounds from the cello helped people to draw. The cello clears a space for the body and rhythm. The research culminated in a PhD thesis submission called Drawing on the Nature of Empathy, that will be completed in September 2016 at University of the Arts, London.
This research has led to a number of projects across art venues and other hospitals that have been realised or are in the process of being realised. Reciprocal Loops: UnCritical Care at LCC was one of them. My performances have been elaborated to take into account major political and organisational change. Queen Elizabeth Hospital Woolwich was part of an NHS Trust with the largest financial problems in England, so the events took in elements of dissonance and my participants and I played around with those ideas through drawing and performance.
By chance the LCC performance coincided with a student project that challenged the management structure. Our collaborative performance the following morning counter-balanced the mounting political debate, with elements of calm. This heightened the sense of presence, place, context, giving a strong sense of temporary community, that included students, and a healthcare professional performing splenic palpation, solo cello playing to accompany the rumble of passers-by and Baudelaire's poetry from Spleen et Ideal, to alleviate anger and melancholy.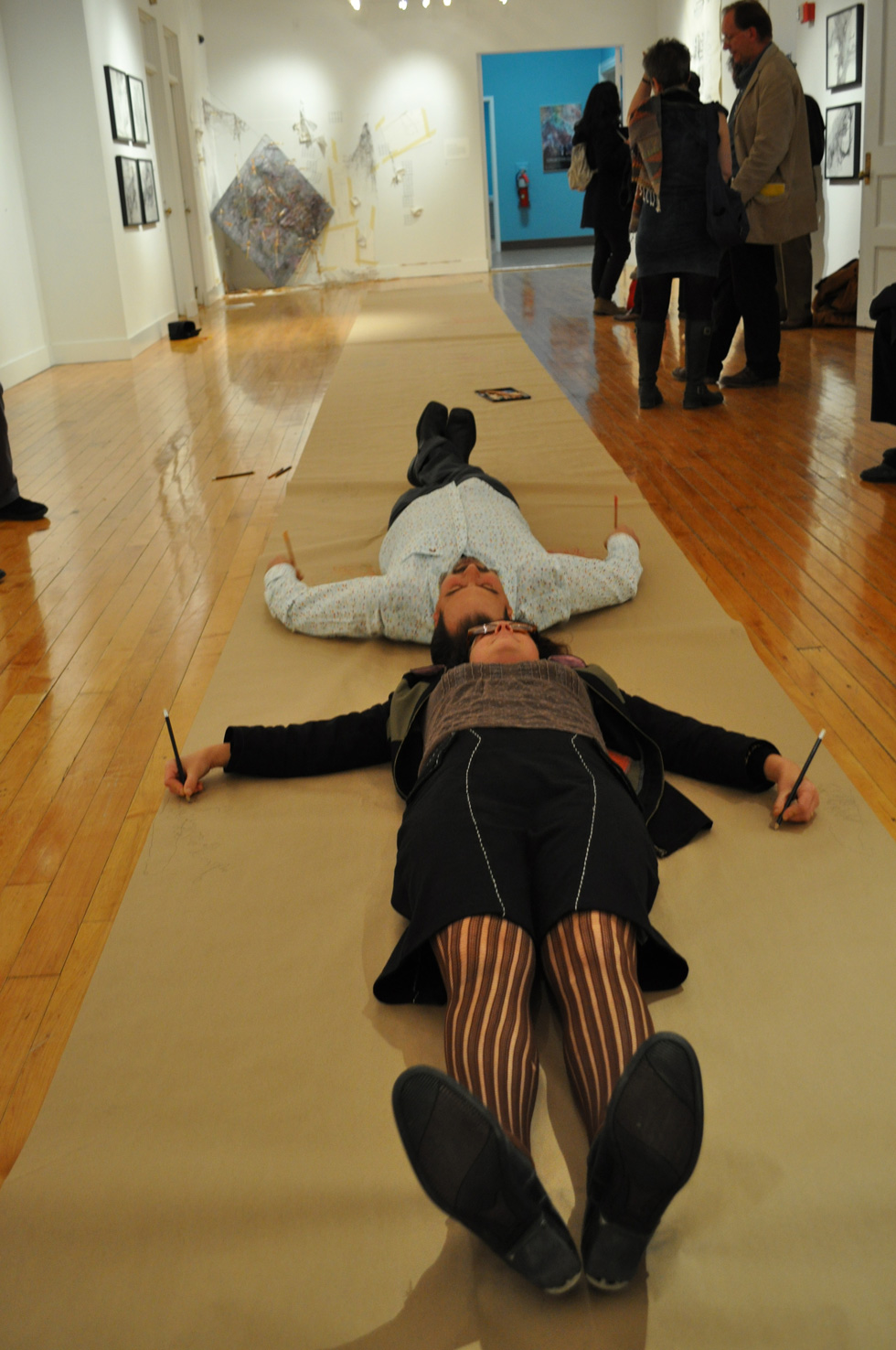 The importance of sensing one's presence in the place or stage of drawing cannot be underestimated. The gestures and cognitions that come from a practice based in life drawing as well as drawing from life are both valuable and therapeutic. Art is good at finding out things one does not already know. I learned how to tap anxiety. The importance of the form of rhythm within drawing experiments had implications for the creation of new polyphonic rhythms within the community undertaking the research art practice. Dissonance was not eliminated; it was lived and worked with. The actions embodied aspirational forces as well as acknowledging the slow pace of change, which encouraged a sense of resilience within this community.
My work suggests that drawing traces and memories together, in an elegiac or haunting way, can resonate with many different people. This act of stitching together the parts of the project, different cuts from the patterns of art, medicine and life, offers a variety of opportunities and ways of thinking about what has happened.
In order to explain how the work might contribute to a sense of temporary community in a distressed environment I describe my performance in the gallery (which is also a corridor leading to the conference centre of the hospital) in the short time before, during and after the Open Staff meeting with the Trust Special Administrator, which was due to announce the future of the Trust.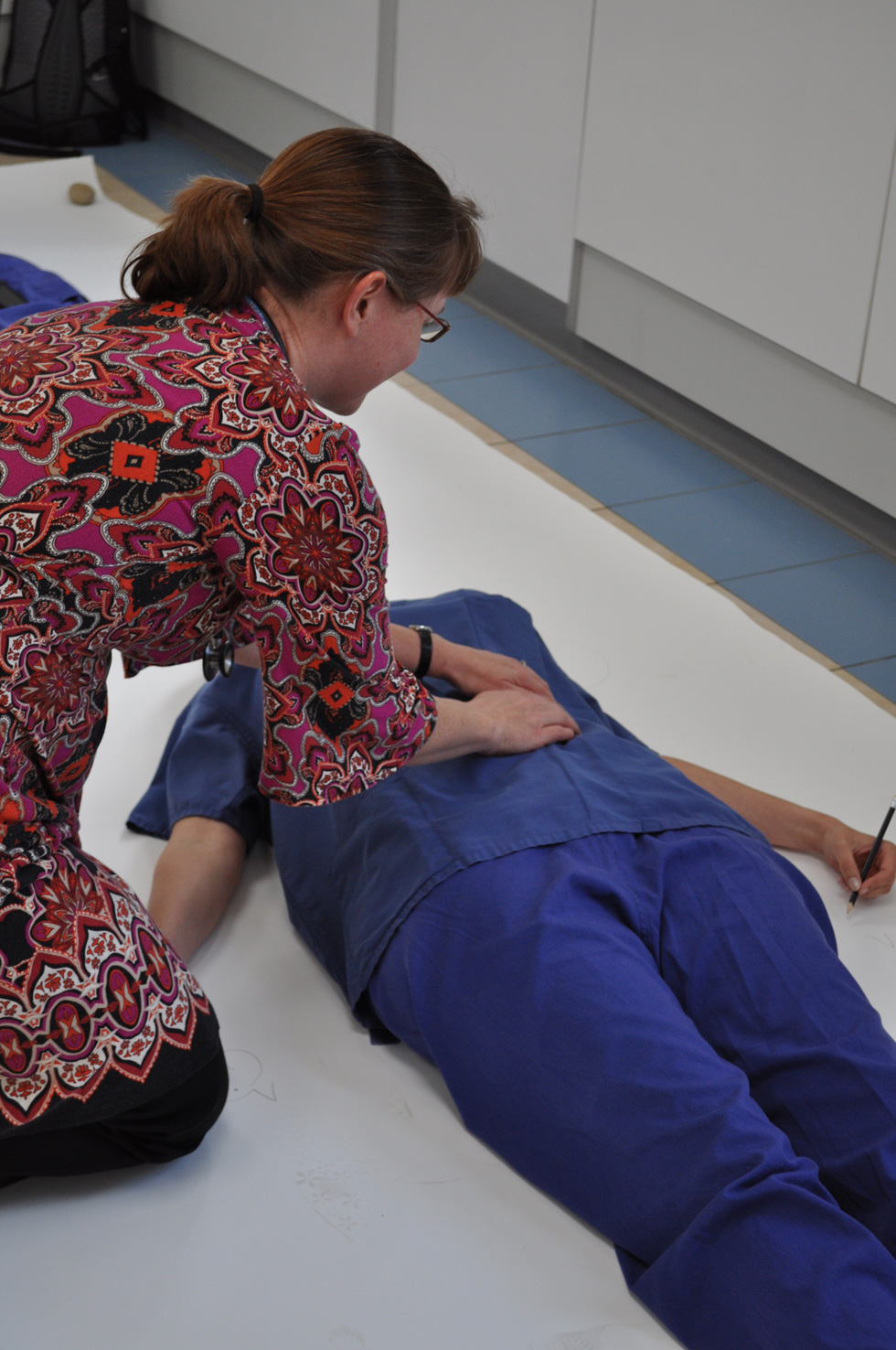 I lay on the floor and started drawing my everlasting, horizontal figure of eight, a symbol for infinity. The Director of Operations scurried past as I was lying myself down. He did not catch my eye but hurried on past. I was established on the floor as other people started to trickle past me in to the meeting in an adjacent building. The trickle built into a rumble of footsteps and chattering voices. I keep my eyes closed and the comments began. I heard two male voices chatting away as they walk through the gallery. Just before they reach my recumbent form I hear one say to the other, casually and in a matter of fact voice, 'That's art.' And they passed, resuming the original conversation. There is no irony or sarcasm, just a that's-what-goes-on-here sort of voice. More voices, 'Are you alright there, Angela? Shall I call the Resus (resuscitation) team for you?' says Stephen, the Director of Clinical Research for the hospital. After a while I am aware of a shadow and someone asking 'Can I join you?' Sally, from the Chemistry Department had returned to the gallery to see what was going on. She was fascinated and wanted to join me. She lay down on the floor beside me. We started toe to toe and moved away from one another on the paper, a metaphor of what the Hospitals within the Trust were going to do, if rumours were correct. After about ten minutes and several metres on prone drawing Sally has to go back to work. She says, 'What you're doing is serious isn't it. It isn't just about art is it? It's about cleansing techniques and getting it right for patients.' I nod.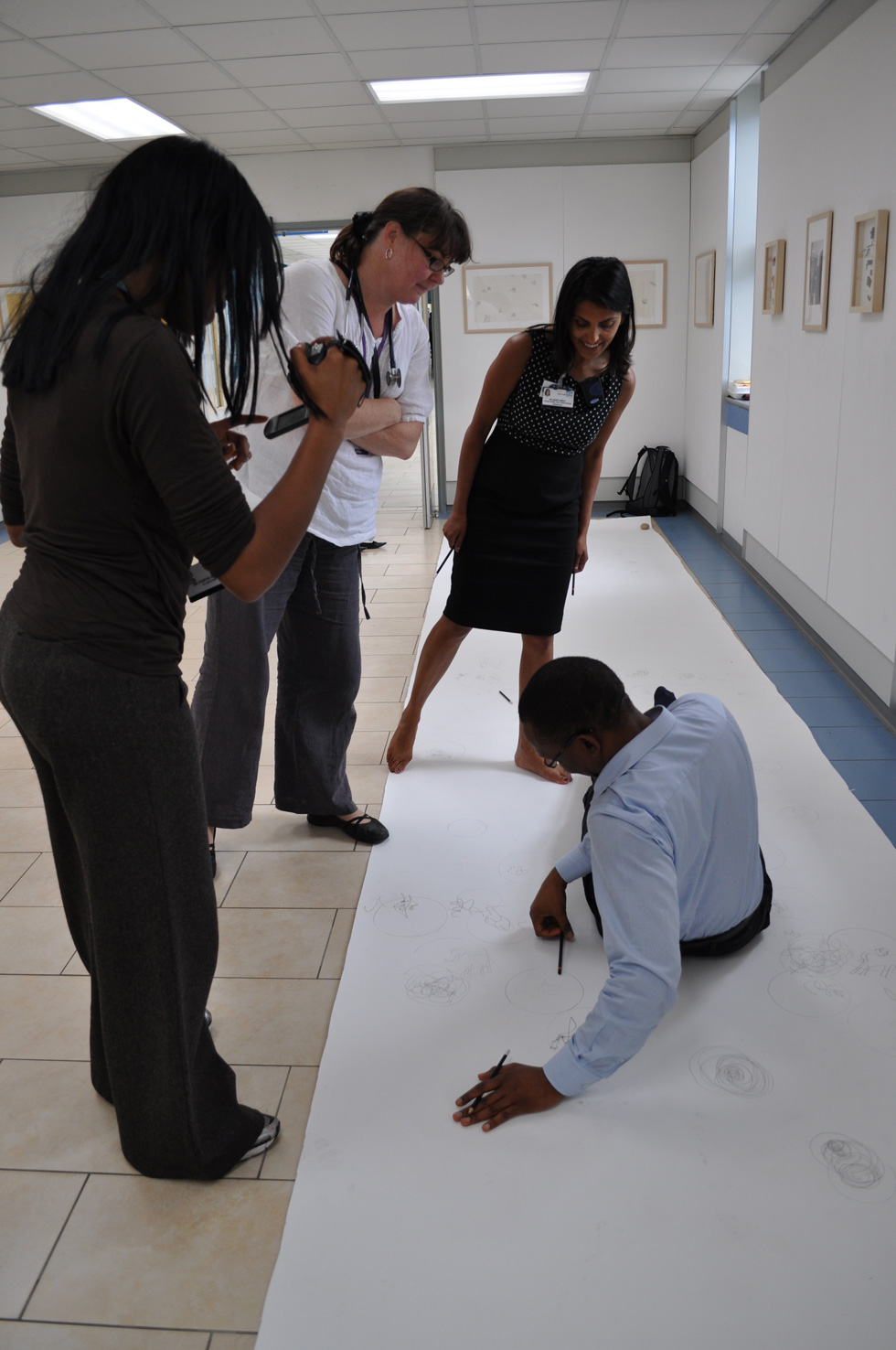 The problems in pursuing a practice of empathy in these hospital environments include: politics and diversity, highlighting the difficulty of entering and participating in the work. I learned about the importance of working with hospital staff, at all levels, and a sense of how they have learned to 'hover attentively' for the benefit of others.
I suggest that what was important about this work, and what will be important for the projects still to be undertaken, is the question of whether the participants can be carried with me, encouraging them to shift. In a sense we become the gallery. This work involves a new syncopation, putting emphasis on weaker beats, highlighting the rhythms of hospital community life and collaborative practice in institutions that engage with these medical metaphors.